Featured Product - Bardimm Pro
Bardimm Pro released for Newest HP Laserjet Printers :
M552/M553/M604/M605/M606.
Part Number JM30100X
---
Intelligent Barcoding -Printing barcodes on documents output by Windows, SAP R/3 and ECC, Oracle or even your own custom application, is easy with BarDIMM Pro and BarSIMM. Your HP LaserJet printer will instantly become proficient in producing high quality 1D and 2D barcodes at high speed. .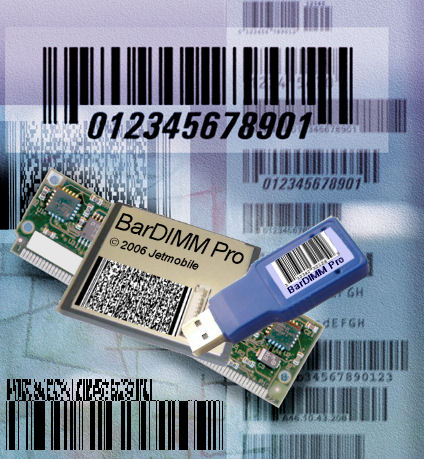 Bardimm Pro Summary
Best Barcode Solution
The BarDIMM™ Pro and BarSIMM™ solution has become the most complete and simple product to quickly and accurately print barcodes on HP LaserJet printers.
Use the BarDIMM Box for non-natively supported print devices and achieve the same high quality barcoding printing results as Jetmobile's embedded BarDIMM Pro offers.
Unlike some barcode solutions, which merely add fonts to a PC or printer, BarDIMM Pro actually extends the PCL5 language. Barcode formatting, error detection, and checksum calculation are performed by the BarDIMM firmware, reducing the load on the host and the network. Barcodes can be printed in almost any size or rotation, bar width, and height. Caption text can be embedded in the bars or printed above or below the bars in a variety of fonts and sizes (including Code 128 PayPoint barcodes).
Key capabilities of BarDIMM Pro
Works Natively with SAP R/3, SAP ECC, and Other ERPs
BarDIMM Pro is "Plug & Play" with many ERP applications including SAP R/3 and SAP ECC. The solution can also be used with Oracle, PeopleSoft, JD Edwards, or any ERP generating PCL5e language used for HP LaserJet printers.

Barcoding from Windows
BarDIMM Pro is "Plug & Play" with most Windows applications, using activation through special TrueType fonts. Including a barcode in a document is as easy as selecting a new font in your Windows application (Word, Excel, MS-Access, etc.). Simply install special TrueType fonts in Windows to activate the barcode generation in the printer. There is no software to load or to buy for PCs and data is converted to barcodes on the printer, saving significant network and PC bandwidth. More secure and less expensive barcodes are generated in a high-resolution format by the printer engine, not as an image by the Windows driver.
Barcoding from Other Systems
Barcoding from other systems, such as Unix or mainframes, is also available by inserting barcoding commands in PCL5 flows or ASCII/SCS spool files. The BarDIMM Pro solution features the complete set of BarDIMM functionalities, plus a flash disk to store signatures, forms, logos, or fonts. BarDIMM Pro is available for most HP LaserJet printers and as an external print server for entry-level HP LaserJet printers and other non-HP PCL5e printers.
Supported 1D Barcodes
GS1-14, Datacode 14, RSS14, GTIN-12, UPC-A/E, GTIN-13, EAN-8/13, Code 39, Ext Code 39, Code 93, Ext code 93, 25 Interleaved, 25Industrial, 25 Matrix, Code 128, GS1-128, EAN/UCC 128, Codabar Monarch, MSI Plessey, OCR-A & B.
Supported 2D Barcodes
PDF 417, Macro PDF 417, AZTEC, UPS Maxicode, DataMatrix, QRCode, Codablock-F, GS1 Datacode RSS CC-A and CC-B.
Supported OMR Marks

The Advantages of BarDIMM Pro
Easy to Install: The BarDIMM Pro memory module can be installed in a few minutes.
Universal: Supports more than 80 types of barcodes.
Plug & play in Windows—standard activation through the application font menu (click here for more information).
Easily usable in PCL/SCS mode from AS/400 and from Unix systems using the included Freescape technology.
Checks and validates incoming data.
Error messages when barcode data is NOT valid for the active symbology.
Automatic Checksum calculation and data compression.
Text is automatically printed under bars, formatted and scaled by the printer.
Firmware can be upgraded on-site on the same printer model, something previously not available with BarDIMM products.
Freescape technology to replace the escape character with an ASCII character, configurable from the printer front panel menu and through escape sequence.
Includes an extensive library of scalable symbols used on labels and shipping/manufacturing documents. Features extensive flash storage capabilities to keep forms, logos, and fonts loaded on the printer for faster throughput.
Success Stories

BarDIMM for corporate-wide SAP R/3 barcode printing

Case study: Porsche worldwide

The question was how to get cost-efficient barcode printing for environments as varied as R&D, stores, production and sales, spread accross a number of locations around Stuttgart. The necessity to print these barcodes from a range of SAP R/3 modules, some of which are specific to Porsche, was a further complication. The chosen solution is to use the BarDIMM solution all accross the company.
---
BarDIMM for Healthcare

Case study: Helsinki University Central Hospital

Administrative efficiency is vital to Helsinki University Central Hospital, which is Finland's largest university hospital. Barcodes play an important part in that efficiency, being printed not only on the hospital's invoices and forms but also placed on such items as test tubes. The hospital needed a reliable and versatile print solution to replace its outmoded barcode system and it found that with the BarDIMM Pro plug-in for HP LaserJet printers.
---
BarDIMM for Retail

Case study: Casino supermarket chain - France

As part of each supermarket system, each product has a barcode attached that emcompasses both price and product description and is used to track inventory. The information for the barcode is provided by an application running on an AS/400 in each store, and needs to be handled locally.
---
BarDIMM for Manufacturing with SAP R/3

Case study: Bosch

"We easily and quickly implemented the BarDIMM solution. This solution is transparent to the printers and to SAP R/3. It works automatically and allows us to optimize our production documents" - Jean-claude Metge, Bosch Automotive France Bosch is the world leader in automotive equipement with production facilities accress the world. Bosch had a need to streamline the data entry and traceability of production documents in factories. Bosch moved away from specialized thermal printers in favor of standard LaserJet printers equipped with BarDIMM. Bosch is using SAP R/3 with the native support for BarDIMM.
---
BarDIMM for Transaction Printing


Case study: Hoffman-La Roche Ltd - Switzerland

When F. Hoffman-La Roche Ltd came to the end of their SAP implementation, they discovered that the printing solution provided as part of their new system was far from state of the art. Even when developing the range of forms in SAPScript, they couldn't print their barcodes in the orientation they needed. Roche then got equipped with BarDIMM and quickly took advantage of the solution to increase the value of the printout and extend the versatility of their printing environment.
---